Robert Martin is 61 and looks…and acts, and feels, a lot younger. Oh, look at his face, and you will see gray hair and lines which tell you he ain't no young whippersnapper, but look at the body…(you can see it here).
Robert Martin says, and I believe, based on my own study and experience, that even senior exercisers do NOT need expensive gym memberships, personal trainers, high tech exercise equipment, or tons of time (and sweat), to look and feel great…"at any age".
So, what are Robert Martin's credentials?
Well, to start, in his own words after training as a classical musician:
"…I put that training to use while touring the world as a multi-instrumentalist and singer with pop icons including Etta James on tour with The Rolling Stones, Frank Zappa, Stevie Nicks, Michael McDonald, and as Musical Director for Bette Midler. I've composed for TV shows like "Cybill" and "Baywatch," performed with Paul McCartney, Sting, Chuck Berry, Bonnie Raitt, Boz Scaggs, and recorded with Prince, The Moody Blues, Gladys Knight, Wilson Pickett, blah, blah, blah."
Whoa Nellie! What does THAT have to do with How to Look Great Naked at Any Age?
Well, for one thing, after all those years of doing THAT, Robert still manages to look like he does in the picture further down the page.
Not only that, he has managed to arrive at age 61 looking…and feeling…the way he does because of some conscious lifestyle choices he has made in the past and still makes today. Lifestyle choices that are so simple and easy that he does what he needs to look and feel that way in only a few minutes, he claims 19, a day….and while living the hectic life of a touring and studio musician.
Here's a picture of Robert Martin at age 61: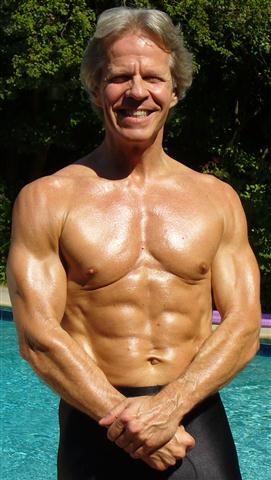 Robert Martin's health and fitness system is centered around three major areas:
Strength
Cardio
Nutrition
Fortunately, Robert has also included motivational aspects that help you get started and keep going.
Robert has put the basics into a course which will show anyone at any age how to do what he does. To make things even better, he offers to show the basics to anyone for free! True, he will want to sell you a more complete edition of the program at a later date, but the free info will be more than enough to get many started on learning How to Look Great Naked at Any Age.